Today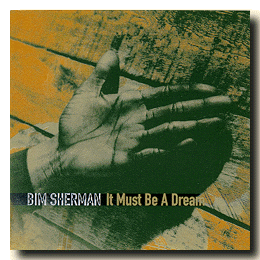 Bim Sherman
It Must Be A Dream
Mantra MNT CD1005

Some say that Bim Sherman is Jamaica's
best kept secret.

They say it's because he's one of the few singers from that particular island that's under recorded.

Well, I know why. He's only got 11 songs and he keeps recycling them...

So in a sense It Must Be a Dream is not new. It's in fact a remix of the album Miracle from 1994.
But what a remix!

People like Tim Simenon, Adrian Sherwood and Youth have put some action in the original tracks.

The idea then was to mix Bim Sherman's expressive voice with tablas and Indian string arrangements. But with no 'real' beats that concept didn't work for me.

This one does however. Especially when those tablas and strings are blended with today's electronic version of roots.

A modern classic?
Yesterday


Horace Andy
In The Light - In The Light Dub
Blood And Fire BAFCD 006

July - reggae month. Blame it on the summer?

Well, that's not really the case for me. It's just a coincidence.

But the release of this 1977 gem is no coincidence. I'm glad to see that singer Mick Hucknall of Simply Red fame is doing something good with his money.

Namely the Blood And Fire label. Releasing mostly wonderful stuff, elegantly and informatively packaged.

And Horace Andy really deserves this treatment.

Most people today who recognise his name do so because of the Massive Attack collaborations.

But before that he's done lots of stuff on his own.

Of what I've heard from him In The Light is the best.

But, who knows? The BAF crew maybe digs up something even better down the road?

Don't worry, I'll keep you informed.