Today


Various Artists
Serenity Dub 4.1
Incomina inc! cd 3307

You sure don't get much information from most of the new world wide groove community.

Anyway, this compilation is released by a German label, with artists mostly from England and Germany.

But there are also contributions from Italy, NY, New Zealand and Sweden (yeah!)

Now I hear the impatient ask: What does it sound like?

Well, mostly sequenced spaced out techno reggae dubs at its white best! With an ambient twist, of course.

Funnily enough, one of the best tracks, Dommatosk from Sweden's Pro-Seed (what a name...) is mostly live. Btw, remind me to find out more about those guys.
Yesterday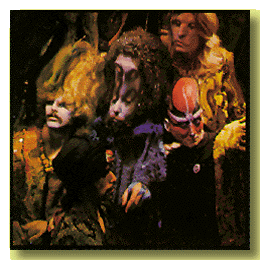 Spirit
Twelve Dreams of Dr Sardonicus
Epic EK 30267

Originally released in 1972, this was the peak of the first (or indeed, any) Spirit line-up. Nicely varied within its concept (what's it all about, really?), it still holds up very well.

I'm even quite sure that those of you who weren't around the first time, but like your pop/rock with wit and passion, can take this to your hearts.

Especially as 12 Dreams of Dr Sardonicus now is (re-mastered) in the Nice Price category.

If someone told me that Lindsay Buckingham had listened to this album a lot, I wouldn't be surprised. Things like Animal Zoo and Love Has Found a Way have a lot of the same sort of twisted thinking as LB at his best.

Hmmm, almost all the songs do, come to think of it...