Today


John Mellencamp
Mr Happy Go Lucky
Mercury 532 896-2

Yes!

John Mellencamp is finally on the right track again!

I believe the crucial decision was to bring in producer Junior Vasquez. With him came some fresh air in the Mellencamp barnyard.

Or some fresh rhythms. Drum loops. On paper it's a strange idea but on record it's a natural.

And we get John's best album since - dare I say it? - The Lonesome Jubilee from 1987.

Acoustic flavoured, country tinged rock'n'roll from the heart of the USA.

Sometimes you can't resist it.
Yesterday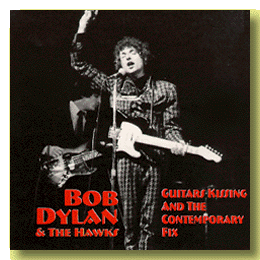 Bob Dylan & the Hawks
Guitars Kissing & the Contemporary Fix
SIAE 51766

Maybe I shouldn't tip you of a bootleg?

But this one's extra special...

The May 17, 1966, Manchester, England show is by some hailed as The Greatest Live Show Ever. And Sony still won't release it properly.

Why? Beats me. The performance is outstanding and the sound very good. It can't be that Sony still think it was recorded at Royal Albert Hall, London on May 27 and are too embarassed to admit otherwise, can it?

We get two discs, I believe it's the whole show. Disc One is acoustic, disc two electric. Literally. Booing, cries of 'Judas' and a Band-to-be in high spirits.

Plus a Robert Zimmerman singing his rocks off.

Certainly one of The Greatest Live Records Ever!

PS October, 1998
This concert is now finally officially released by Sony as
'The Bootleg Series, Vol 4: Bob Dylan Live 1966'.