Today
Yesterday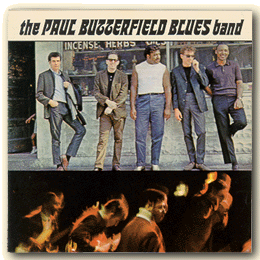 The Paul Butterfield Blues Band
The Paul Butterfield Blues Band
Elektra Records 7559 60647 2

Released in 1965, it was actually the third attempt to record the band that was released.

The first was two days from release, pressed in 25000 copies, when producer Paul A. Rotschild wanted to have another go at capturing the raw energy of this Chicago unit.

The second was an ill-fated live recording.

The third was finally a success.

And a mixture of black and white.
Both in songs and personnel.

Drummer Sam Lay and bass player Jerome Arnold were veterans of the Howlin' Wolf band.

Add to that four white punks on dope: Paul Butterfield himself on vocals and harmonica, Elvin Bishop, guitar, Mark Naftalin, organ plus of course the mercurial Mike Bloomfield on lead guitar.

They played a harder, more metallic version of the Chicago Blues.

Mellow Down Easy.