Today


Paul Simon
You're The One
Warner Bros 9362-47844-2

All is quiet on the east coast.

Hey, man, who's gettin' Old?

Paul Simon has never been a tornado, more the intellectual, and this time around, he's more melancholic than ever.

With a stellar backing, the sound is laid back in a way reminiscent of One Trick Pony.

Sweet and pure, with that clean voice on top.

Perfect for a moody September.
Yesterday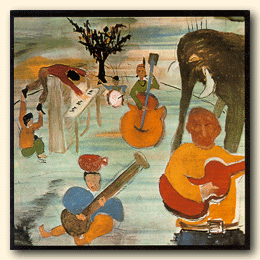 The Band
Music From Big Pink
Capitol LC 0148

In the summer of 1968, the Western world was at it's psychedelic height.

Then, without a warning, this album was released.

When other groups of the time had the most ridiculous names ever, here was simply The Band.

When other groups of the time tried their best to be as far out as possible, The Band made it simple.

Simple as in true.

Tears Of Rage and I Shall Be Released must be two of the most achingly beautiful songs ever recorded.

The recently re-mastered version (with some interesting bonus tracks) sounds better than ever.

Prescription: Use for refreshment whenever needed.

The first four The Band albums are now re-mastered, with bonus tracks. See also December and January 1999