Today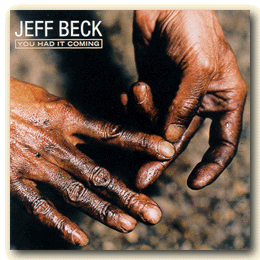 Jeff Beck
You Had It Coming
Epic 501018 2

I sure had it coming.

I've been ignoring Jeff Beck since 1969's Beck-Ola.

His ways were not my ways, so to speak.

Now he's back on top, no doubt about that.

Parts of this album are so good it's almost scary.

Super treated, hard rocking, mind boggling.

Also a few dull moments, but those are easily avoidable with today's playback choices.

Roy's Toys, Dirty Mind and Loose Cannon are the standout tracks.

Keep 'em coming, Jeff!
Yesterday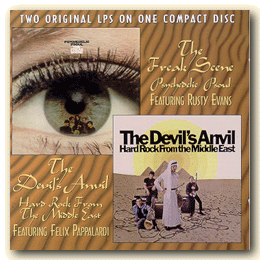 Freak Scene / Devil's Anvil
Psychedelic Psoul /
Hard Rock From The Middle East
Collectables COL6001

The Freak Scene is not bad, but Devil's Anvil is still the thing.

Released in the summer of 1967, and only available here in Stockholm as a rare import, it's been one of the great secrets ever since.

Felix Pappalardi - of Cream and Mountain fame - was the brain behind this.

An album that grew out of jams at the Feejon coffeehouse in Greenwich Village, New York.

It's a great amalgam between western rock and arab rhythms and songs.

Unfortunately, it was released on the day of the outbreak of the Israeli-Arab war, so the radio wouldn't touch it.

But there were a few lucky ones who caught on.

For me, it was through the radio, after all.

Swedish radio legend Lennart Wretlind at the time lived in San Fransisco and had a weekly show. He played lots of great stuff!

Devil's Anvil was the first - and still only - vinyl LP that I transferred to CD as soon as it was technically possible.

But now it's been out officially on CD for two years, I guess I can tell you about its existence...