Today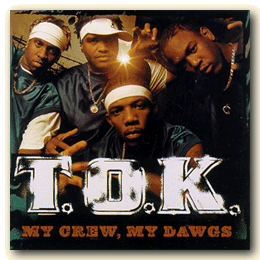 T.O.K.
My Crew, My Dawgs
Bach Records VPCD1632

Said by some (themselves), to be '4 young men destined to revolutionize dance hall music as we know it'.

Are they? Do they?.

Well, at least, they make it more accesible.

We get pop, hip-hop, doo-wop mixed into the stew.

This, and the fact that they can actually sing, makes it the first dance hall record I fully have enjoyed. Ever.

I'm as surprised as anyone.

Thankfully positively.
Yesterday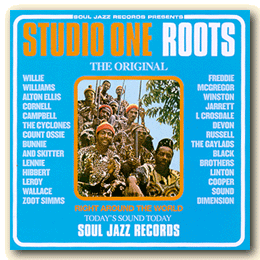 Various Artists
Studio One - Roots
Soul Jazz Records SJRCD56

No recording date is mentioned anywhere in the sleeve.

I'd guess 1970-75.

Anyway, it's producer Coxsone Dodd trying to mix Rastafari into the mainstream of the time.

The most unusual results come when he brings the whole nyabinghi concept into the studio.

Like Bonnie & Skitter's Lumumbo backed by Count Ossie & the Mystic Revelation of Rastafari.

There are many fine moments here, reminding us of a time when many Jamaicans, in the wake of the liberation, really had a sense of a bright future.

I'm not so sure of their state of mind today.