Today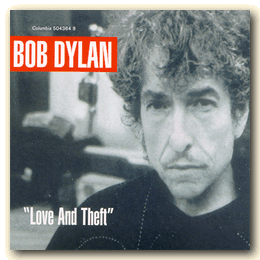 Bob Dylan
Love And Theft
Columbia COL 504364 9

I'm glad I survived.

I survived the shock of the first listen.

The album's two first tracks are sort of what you expect, kind of post-Highway 61.

But then you are thrown completely off course.

I don't know what the man is trying to do, maybe a bit of music history?

After a few listens however, I can listen through the whole album without throwing up.

However, for you who can't, there's always the opportunity of modern days. You can easily program your own choice of melodies.

And if you get the deluxe edition, you get an inspired 1961 live I Was Young When I Left Home.

I have to admit, though, that I'm still waiting eagerly for a third Traveling Wilburys album...
Yesterday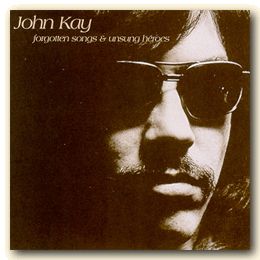 John Kay
forgotten songs and unsung heroes
Wolf Records WOLFCD147

John Kay, lead singer with Steppenwolf, made his first solo album in 1972.

It's a kind of 'hard country' type of album. With a hint of trance, indeed.

Mostly mid-tempo, lots of acoustic guitars, but also bass, drums, organ.

Some carefully chosen covers, blended with some great own compositions.

It's been one of my big favorites since the first day I heard it, so I was very happy when I found the CD.

Exclusively released on the net, via www.steppenwolf.com, unfortunately it takes away some of the magic of the vinyl. It's thinner and harsher.

Thankfully, the music itself is strong enough to withstand such tampering.