Today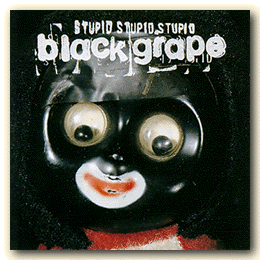 Black Grape
Stupid Stupid Stupid
Radioactive Records RARD 11716

Everytime I see the headline Rock Star OD'd,
I think of Shaun Ryder.

Well, that's not exactly true, but you have to confess your thoughts have travelled a similar path from time to time.

Having flaunted his mindless partying for the last decade or so, it's not so strange.

Neverless, he still pops up from time to time with some new or old friends and an uneven album.

Stupid Stupid Stupid might be a little bit single-minded and is therefore best enjoyed
in small doses.

However, tracks like Get Higher, where a manipulated Ronald Reagan confesses he and Nancy are now addicted to heroin, are quite fun.

Lonely is certainly a subject matter of today.

And then you have to discover stuff for yourself,
of course.

I'm merely standing here pointing.
Yesterday


Westworld
Where The Action Is
RCA PD 71429

Ba-na-na-bam-boo-my-shoe!

Westworld's beatbox-driven fantasy
pseudo-rock'n'roll cartoon hideout is as entertaining today as it was in 1987.

Shades of T Rex, Eddie Cochran and Bo Diddley
are everywhere to be found.

Not only to the delight of the archivist rock nerd,
but also - dare I say it? - to the fun-loving people of the world today.

Just take a look at a few of the titles and you'll know: Silver Mac, Rockulator, Cheap'n'nasty, Fly Westworld.

And - of course - Sonic Boom Boy!

Play this record when you're down and you'll be up. Play it when you're up and you'll be flying.

A perfect little helper to boost your sense of well-being.

Ba-na-na-bam-boo-me-too!