Today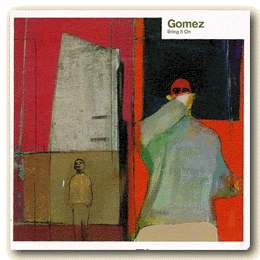 Gomez
Bring It On
Hut Recordings CDHUTX49

Should young Liverpudlians really sound like this
in the 90's?!?

Luckily, there is no such thing as should.

Otherwise I would be dead certain this was an American band.

Somewhere from the Deep South, sometimes even close to the cool J.J. Cale groove territory.

Ben Ottewell and Ian Ball don't sound British at all. No, they are more like the missing link between John Fogerty and Eddie Vedder.

However, there is nothing contrived about Gomez.

All the more strange since none of the people involved are over 24.

Maybe they haven't got the songs pinned down 100% yet, but they sure have the feeling.

But if they pursue the direction of
78 Stone Wobble nothing can go wrong.

I sure am expecting great things of Gomez in
the years to come.

And don't they dare let me down!!!
Yesterday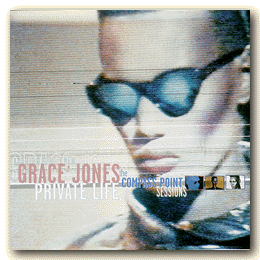 Grace Jones
Private Life: The Compass Point Sessions
Island Records 524-501-2

Disco diva, movie star.

Although she did a Bond movie, in my book she's mainly a singer/performer extraordinaire.

I had the pleasure of meeting her and her band at Compass Point Studio early in 1982 when they started sessions for the Living My Life album.

I was there mixing my band.

She was already huge then, but everything was cool. We played pinball and table soccer and some of us indulged in a little mind flying.

Anyway, her mixture of reggae, pop and disco set dance floors all over the world on fire in the early eighties.

Innovative then, still exciting today.

I guess some of this is due to the excellent musicians.

Sly Dunbar on drums and Robbie Shakespeare on bass laying down the most wicked grooves.

Embellished by Barry Reynolds and Mikey Chung, guitars and Wally Badarou, keyboards.

And percussionist Sticky Thompson - walking around with spliffs sticking out from his dreads...

Finally, just a word of information: These are mostly 12" mixes or extended versions. If you want a straight hit package, get the compilation Island Life.