Today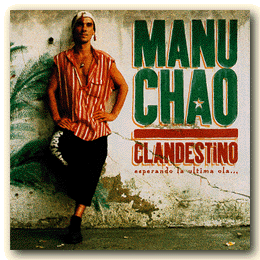 Manu Chao
Clandestino
Virgin France 72438457932 9

Record companies work in strange ways.

This, the first solo album by the former
Mano Negra lead singer Manu Chao
is only available on import here in Sweden.

And that's a great shame.

Because here you have some warm, funny,
intelligent forty-five minutes directly from the
je-ne-sais-quoi.

I'd say it's a mostly semi-acoustic album mixing
latin and reggae and other "sunny" stuff in a
pot of world pop, for lack of a better word.

Mano Chao is The King of the Bongo!

PS September 1999
Clandestino is finally released in Sweden!
Yesterday


Traveling Wilburys
Volume One
Wilbury Records 925 796-2

Spring is here, soon you can walk around without shoes and socks.

Is there a better way to salute this than to
dust off this 1988 masterpiece?

This little gem really makes you happy.

George Harrison, Tom Petty, Jeff Lynne,
Roy Orbison, they all make a great job, but the
real deal for me here is Bob Dylan.

I'll bet we'll never hear him
this relaxed again.

The pop formula suits him better than he would ever admit.

However, I've heard rumours of a
new Traveling Wilburys album.

So please, Bob, I would love to be proven wrong!