Today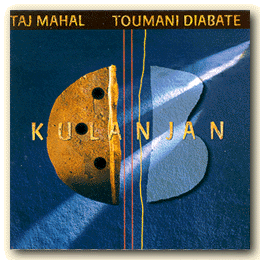 Taj Mahal & Toumani Diabate
Kulanjan
Hannibal HRCD 1444

The Mali thing is still magic.

Some call it the home of the blues.

It could as well be the home of the trance groove.

So, to put Taj Mahal with Toumani Diabate
is no bad idea.

It's not really up there with Ry Cooder's and
Ali Farka Toure's collaboration, but not
far from it either.

Gentle and soothing.
Yesterday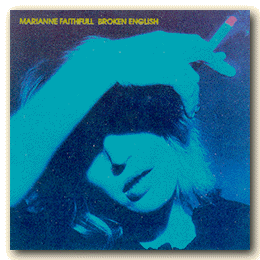 Marianne Faithfull
Broken English
Island 251 018

The darling of the 60's was strung out.
She used to be the heroine, now she was heroin.

So in 1979, this came as a real surprise to many people.

Her voice, once petite and fragile, was now
ragged but oh, so powerful.

The songs are very emotional. Some self-penned, a couple of covers. She even managed to get away with a version of one of John Lennon's most heartfelt - Working Class Hero.

A couple of songs were written by Barry Reynolds, who after this was handpicked to work in the great band that backed Grace Jones in the early 80's.

Lovingly produced, Broken English sounds as good today as it did twenty years ago.

But now it's no surprise.

This is the real thing.