Today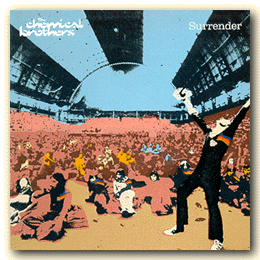 Chemical Brothers
Surrender
Virgin Records XDUSTCD4

I'd actually given up hope.

Hope of ever enjoying more than a
Chem Bros song here and and a
Chem Bros song there.

It's good to be surprised now and then.

The boys have dug deep and found some
real beauties.

Is it more pop now, or am I a moped?

It's still dance music, of course, but
the icing is certainly more varied than ever before.
Influences range from Kraftwerk
to Traci Lords to The Beatles
to Terry Riley to...

Favorite title at the moment:
Orange Weed...eh, sorry...
Orange Wedge.
Yesterday


Kraftwerk
Computer Welt
EMI CDP 564 7 46130 2

In one sense, it's really ridiculous to say that
Kraftwerk are 'yesterday'.

What could be more up to date than
'Computer Welt'?

It's equally ridiculously hard to pick only
one of their albums.

This 1981 German version makes my KW-collection
complete, that's as good a reason as anyone.

I almost hope they never release any new material,
they have a lot to live up to.