Today


Black Star Liner
Bengali Bantam Youth Experience
WEA 3984-25004-2

Turn off your mind, relax and float downstream.

The British cross-fertilization crew strikes again.

Presented with a name like Black Star Liner,
you are forgiven if you thought you would get
a heavy dose of reggae.

Instead you find yourself, like Columbus,
on your way to India.

Nothing wrong with that conclusion
this time, though.

Clocking in at a (by today's standards)
modest 43 minutes, the second album from
these gentlemen leaves you wanting for more.

So I'm going out to find their first album ASAP.
Yesterday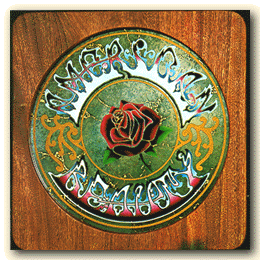 Grateful Dead
American Beauty
Warner Bros 1893-2

Time flies but some things prevail.

The Grateful Dead recorded and released
American Beauty in 1970.

What a brilliant name for a brilliant record!

The original Dead line-up deep in Americana.

Country music with an acid twist.

Some really beautiful songs:
Box Of Rain, Friend Of The Devil, Candyman,
to name but three.

Some really beautiful steel guitar by Jerry Garcia.

And the vocals, coached by CS&N, are
the best I've heard from The Dead.

I really can't say anything bad about this record.