Today


Joe Strummer & The Mescaleros
Rock Art And The X-Ray Style
Mercury 546 656-2

They never came back.

But there's always an exception.

Joe Strummer and his motley crew
most certainly prove it.

From the opener Tony Adams to the closer From Willesden To Cricklewood, there's an almost unbroken line of great songs.

And of great spirit.

Joe Strummer is looking back and looking forward at the same time, while producer and co-writer
Antony Glenn (ex-Elastica) even gives a nod
or two to Big Audio Dynamite.

An album of hope and glory.
Yesterday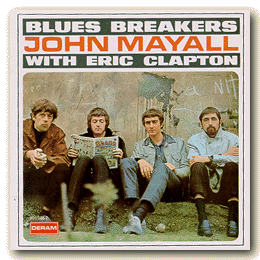 John Mayall with Eric Clapton
Blues Breakers
Deram 800 086-2

The famous Beano cover.

The famous British Blues Boom.

The famous guitar sound.

Recorded in 1966, this was the first time the lethal combo Gibson Les Paul/Marshall was heard on an album.

Eric Clapton was in early top form, sympathetically backed by Messrs Mayall, McVie and Flint.

He even made his singing debut on Ramblin' On My Mind. Of course a Robert Johnson number, what did you expect?

Then there was Cream. And the world.