Today


Leftfield
Rhythm And Stealth
Columbia COL 488527 2

So this record took three years to make?

Then the first one, Leftism, must have taken 20.

In other words: Rhythm And Stealth is not as complex as its predecessor, it's more of a
groove thang.

Some songs are merely fillers, others are
extremely good.

Start with Dusted or
Chant Of The Poor Man
and you are hooked.

Go on to Swords and there is no turning back.

After that, you even forgive them the bland moments.
Yesterday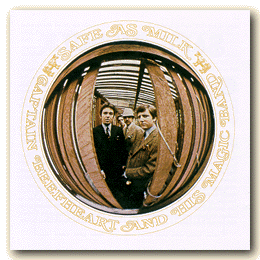 Captain Beefheart And His Magic Band
Safe As Milk
Buddah 74321 69175 2

It's 1967 and Don Van Vliet is on a roll.

Somehow he gets the then 20-year old Ry Cooder to act as band leader during recordings.

Of course he also plays slide. Lots of slide.

Don co-writes songs with the mysterious Herb Bermann.

(Mr Bermann was probably just a stunt to get this blues band to play the Captain's compositions which they initially thought to be too weird. Strange.)

After a few false starts and a change of record labels they get it together.

And how they get it together!

This album still stands out today, even more so on this new re-issue from the original masters.

A jagged, driving, twisted mix of blues and pop with strange lyrics and the Captain's huge voice on top.

Electricity!